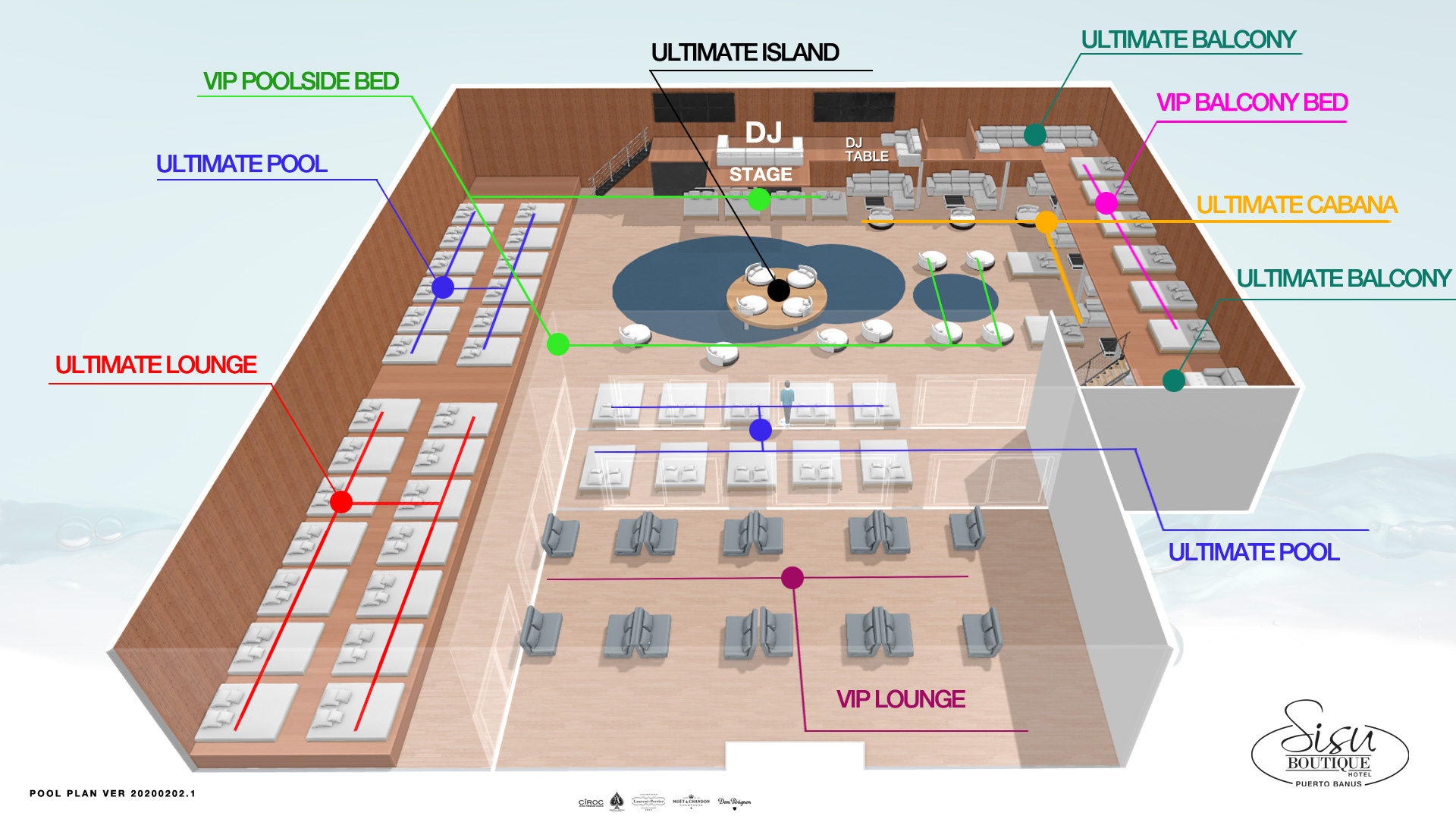 ---
MINIMUM SPEND VIP TABLES "WHAT YOU PAY YOU GET TO SPEND"

INCLUDED
FAST TRACK QUEUE
YOUR SELECTED NUMBER OF ENTRIES
VIP TABLE
FOOD AND DRINK
10% SERVICE CHARGE

100% PRE-PAY RATE OR 50% DEPOSIT RATE
50% Deposit Guarantees Your Booking
EVENTS Terms & Conditions
THESE TERMS & CONDITIONS MAY VARY
PLEASE MAKE SURE YOU REVIEW THEM REGULARLY
CURRENT TERMS FROM JANUARY 2020
SISU BOUTIQUE HOTEL is operated by SISU BOUTIQUE SL, a Spanish company B93056836.
VALID IDENTIFICATION IS NEEDED BY ALL GUESTS VISITING THE HOTEL OR ANY HOTEL EVENT.
Every person entering SISU BOUTIQUE HOTEL must have a valid form of photographic identification in the form of either a passport or a driving license.
No under 18s are permitted into the venue.
EVENT E-TICKET TERMS & CONDITIONS
Event tickets are issued subject to the rules and regulations of the event organiser or promoter. Full details are available on request.
The hotel reserves the right to request all ticket holders provide appropriate ID for proof of age purposes.
The ticket is only valid for the specific date purchased and will need to be shown on entry into the hotel.
Tickets are sold subject to the management's right to alter or vary the events calendar due to events or circumstances beyond its control without being obliged to refund monies or exchange tickets.
The purchaser represents and warrants that the ticket is purchased for personal use only, and that the ticket may not be resold or offered for resale by anyone. Resale or attempted resale of a ticket is grounds for cancellation of that ticket and the holder may be refused entry to, or ejected from the hotel, without refund or other compensation.
If an event is rescheduled, ticket holders will be offered tickets to the rescheduled event.
Please note that the ticket price on the events calendar is the advance ticket price and can only be bought up until a day before the event. Entrance paid at the door on the day will be higher than the advance price.
No credit/debit card details will be held once the payment is processed and receipt signed on the day of the booking.
Paypal & Amex card payments will require valid photographic identification such as a passport or driving license. For fraudulent reasons we will also require a photocopy of the card & ID.
We do advise guests enter the Hotel as early as possible especially for our busy events, in the case that we reach our venue capacity even with a purchased ticket entrance will be refused.
​We reserve the right to change the price of any booki​ng should any errors have been made on our website or at the time of making a booking with our reservations department.
LOUNGER & BED / TABLE BOOKINGS
All Bed and Table bookings at SISU BOUTIQUE HOTEL are based on a cover charge plus a minimum spend agreement. Excluding any Event which has package included in the price that cannot be altered.
To secure all bookings we require a deposit.
The minimum spend is the minimum amount your party commits to spend that day on food and drink from the venue.
All Bed/Table bookings are required to arrive before 15.00h, after this time the bed will become available for re-sale.
On the day of the booking, guests will be required to pay the remaining balance, a discretionary 10% service charge is included in the spend amount or will be added to any further purchasing.
The remaining amount can be paid before the event date reserved or upon arrival in cash or card.
Your deposit is non-refundable & Non-Transferable.
We cannot be held responsible for flight cancellations.
The bed/table you reserve is for a maximum amount of people. No extra guests will be allowed to join the reservation. Therefore, you will have to reserve for the number of guests attending.
For the payment of your order(s) you will be redirected to the website of the payment processor. Sisu Boutique itself will have no financial information unless a manual booking is made with us via email.
Payment is always made via a secure connection, for more information please refer to the website of the payment processor. As we charge in the local currency of Euros, we are unable to specify the amount taken in other currencies your bank will determine this rate.
If in the extreme circumstances a refund is issued, the funds have to be deposited the same manner (same card, account, etc) as they were received. Refunds may take 28 days to process.
Entry into the venue is at the manager's discretion, any person refusing to comply with any regulation concerning public bathing or swimming will be asked to leave the premises.
For the events that have set drinks packages this cannot be modified. For Package details please see the bookings page or contact the team direct.
Guests with bed bookings can enjoy the use of their beds from 12.00h until 20.00h.
In some cases the venue may change or upgrade my specific bed booked area to another bed/table.
Bed prices are subject to change during the season as per the Management's discretion, we are not obligated to reduce the price of any previously booked bed in the event that the price for other similar beds are reduced at a later time. We are also not obligated to notify clients to let them know of a change in price to other beds.
Please be aware of your belongings inside the day club, as during your time at Sisu Boutique Hotel we cannot be held responsible for any unattended alcohol or personal items.
We do not store any luggage, large bags or bike helmets at the venue. These will not be permitted inside.
By reserving two or more beds on the same order please note we are unable to split the cost of the bill on the day. The cost will be charged on one bill, to one table/bed.
Sisu Boutique Hotel will provide a set of Sisu towels per bed, for extra towels you can hire towels for use with us directly for a 10euro deposit and this will be returned to you at the end of the day, providing you return the towel and receipt. You cannot leave the venue with the towel even if you do not receive your deposit back.
Please note that any purchased drinks at the bar or room service are not redeemable on any minimum spend bed/table booking.
Gift Voucher monetary vouchers cannot be used against a minimum spend booking, you are able to use these at any of our bars located inside the venue.
SISU BOUTIQUE HOTEL GUESTS
Guests staying at the SISU BOUTIQUE Hotel who have booked via www.sisuboutique.com will receive VIP entry to our events.
DRESS CODE
Sisu Boutique Hotel reserves the right to refuse admission; body paint, fancy dress, hen/stag accessories (including veils, sashes & matching t-shirts ), props, inflatables, etc are strictly prohibited. Note that selfie sticks are also not permitted.
All guests must wear suitable footwear.
All guests are also required to depart the venue fully clothed (tops & shorts/skirt)
To bathe in the pool we do enforce that you wear the proper bathing attire, you may not enter the pool fully clothed
DOOR POLICY
The management reserves the right to refuse admission to and/or eject any person appearing to be intoxicated, under the influence of drugs, or otherwise behaving dangerously or inappropriately. No refunds will be given under these circumstances.
To ensure safety, we reserve the right to conduct security searches of clothing, bags and all other items on entry and exit and reserve the right to confiscate items, which may cause danger or disruption to others.
Please note that SLR Cameras and unauthorised video cameras are not permitted at any time. If you wish to record inside please contact our team in advance at info@sisuboutique.com
By entering Sisu Boutique Hotel, you consent to being photographed or filmed and you consent to resulting materials being used for commercial distribution, publication and communications, without payment or copyright.
Food and drink purchased elsewhere may not be consumed inside pool area the day club,and may be confiscated. This also includes food and drink from rooms or minibar.
Animals are not permitted.
No re-entry.
PERSONAL BELONGINGS
Please note all customers are responsible for their belongings when attending an event. Sisu Boutique does not accept any responsibility for any personal property brought to the venue.
To help us give you the best customer service, please report any lost property as soon as possible and we will do our best to reunite you with your items.
For any lost property collected please be aware that we only keep items for up to 3 days after they have been reported lost, so please contact us as soon as possible. All items found within the venue will be kept for 3 days.
Sisu Boutique will not accept any liability for the loss of jewellery, other valuables or money contained within a deposited item(s).
Water Jets and co2 systems are positioned close to the Pool please keep all phones and valuables away from this area. We will not be held responsible for any loss or damage to personal items.
FORCE MAJEURE
In the case of force majeure or bad weather guests with bed bookings and tickets may be offered to attend on another date (subject to availability), unfortunately we operate a no refund policy. Please note that bookings must be changed before 12PM. Please contact our team +34 952906105
SAFETY
In case of Injury or accident, please make yourself known to our Staff. We do have qualified staff to help in any medical matter.
Please act and drink responsibly inside the venue, make sure you keep hydrated especially in the peak season when the sun becomes the strongest.
No diving into the pool.
No running around the pool.
Please note pool depths are shallow ranging from 0.4m to 1.4cm.